CMSA August 2022 Member Newsletter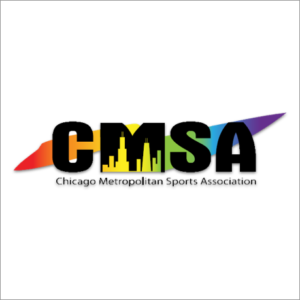 Come play with us!
CMSA New Main Board, Liaison Assignments, and More!
ABOUT CMSA
The Chicago Metropolitan Sports Association (CMSA) is the largest not-for-profit LGBTQ+ sports organization in the Midwest. We offer recreational and competitive level play in a variety of athletic leagues throughout the year. The league is open to all persons who wish to play, regardless of sexual orientation, gender, or gender identity. 
CMSA HAPPENINGS
We want to thank our outgoing CMSA Executive Board members, Michael Richardson, Chris Rinere, and Drew Ladochi for their passion, leadership skills, and volunteering their time to our organization. They led our organization through a challenging time and instituted significant changes for the betterment of our organization. Best wishes and thank you to each of you.
NEW EXECUTIVE BOARD MEMBERS
Pete Gately, President
Katie Nieme, Vice President, Athletics
Nancy Hitt, Vice President, Operations
Adam Whittaker, Secretary
Jeremiah Stevens, Treasurer
We have received numerous applications for the six appointed positions to the Board and we are conducting interviews now. 
NEW LIAISON ASSIGNMENTS
Badminton: Pete Gately
Basketball, Open: Katie Nieme
Basketball, Women's: Katie Nieme
Cornhole: Adam Whittaker
Dodgeball, Open: Katie Nieme
Dodgeball, Women's: Katie Nieme
eSports: Katie Nieme
Football, Open: Nancy Hitt
Football, Pride Bowl: Nancy Hitt
Football, Women's: Nancy Hitt
Kickball: Katie Nieme
Pool: Adam Whittaker
Soccer: Adam Whittaker
Soccer, Pride on the Pitch: Adam Whittaker
Softball, Open: Pete Gately
Softball, Women's: Pete Gately
Table Top: Katie Nieme
Ultimate: Nancy Hitt
Volleyball, Beach: Nancy Hitt
Volleyball, Open: Nancy Hitt
Volleyball, Women's: Nancy Hitt
COMMITTEE VOLUNTEERS NEEDED
We are looking for volunteers for two committees. Data Analysis, which will include looking into possible alternatives to LeagueApps; and, Insurance Review, which will review our current insurance policies and ensure they meet our needs at a reasonable cost. If either of these committees are of interest to you, please contact us at board@chicagomsa.org
CORNHOLE
CMSA Cornhole is planning a first-ever Fall Cornhole League on Monday evenings from mid-September to mid-November. Look for information to be released soon! For more information or questions, contact Greg Marquis at cornhole@chicagomsa.org. 
CMSA PRIDE BOWL
CMSA hosted a successful Pride Bowl from June 23rd-25th.  Chicago was represented by 7 teams in the open and women's + divisions.  Overall, 150 athletes and officials affiliated with CMSA participated.  The Chicago Freeze (Open A) and Chicago Surge (Women's + B) both won their respective championships.  Additionally, Tito's Vodka made charitable donations to the Center for Black Equity, the Trevor Project, and the Point Foundation on behalf of our championship teams.  This event has become THE destination for high level inclusive flag football in the NGFFL footprint.  A championship celebration and fall flag football kickoff is tentatively scheduled for July 23rd at Replay Lakeview beginning at 6pm.
CMSA E-SPORTS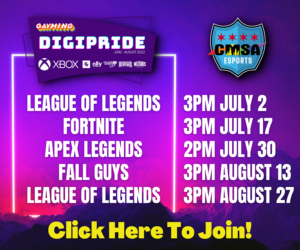 Contact Us